Barry Lindsay 2015 Champion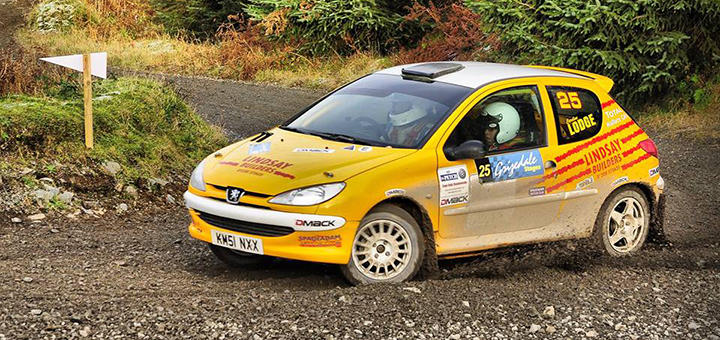 The 2015 SG Petch ANECCC Stage Rally Championship came to a conclusion in the Lake District with the Grizedale Stages on Saturday 21st November. After 11 events once again the title fight went all the way to the last round of the championship. (Beat that Bernie…)
Barry Lindsay from Spadeadam, driving his familiar yellow, gravel specification, Peugeot 206 1600, is the 2015 Champion Driver. Caroline Lodge from Brampton, Barry's very popular Co-driver for 2015, has finished 2nd overall in the Co-drivers table.
Giles Dykes from Barnard Castle is the Champion Co-driver for 2015. Mat Smith from Thirsk, Giles' regular driver in his blisteringly quick Proton Satria 1400, is 2nd overall in the Drivers' table.
Barry and Giles both deserve these hard fought for victories. Many congratulations to both of them…
Steve Bannister, in 3rd place overall, is our stalwart of the ANECCC Stage Rally Championship and ambassador for clubman rallying. Driving his familiar red striped Ford Escort Mk2, Steve is just as quick as ever he was…Louise Rae from Hawick, Steve's extremely popular co-driver, is 3rd overall Co-driver.
Awards for the 2015 SG Petch ANECCC Stage Rally Championship will be presented on Sunday 17th January 2016 at The Jack Frost Stages. The presentation starts immediately after the event awards have been presented:
The 2015 award winners in the championship are:
1st Overall Driver – Barry Lindsay
1st Overall Co-driver – Giles Dykes
2nd Overall Driver – Mat Smith
2nd Overall Co-driver – Caroline Lodge
3rd Overall Driver – Steve Bannister
3rd Overall Co-driver – Louise Rae
1st Class 1 Driver – Daniel Thompson
1st Class 1 Co-driver – Gary Baker 
1st Class 2 Driver – Ben Cree
1st Class 2 Co-driver – Michael Lindsay
1st Class 3 Driver – David Goose
1st Class 3 Co-driver – Richard Wardle
1st Class 4 Driver – Paul Swift
1st Class 4 Co-driver – Jessica Swift
1st Class 5 Driver – Peter Stephenson
1st Class 5 Co-driver – Edwin Cook
The details of the 2016 SG Petch ANECCC Stage Rally Championship are being prepared and a flyer will be released soon.
The Regulations and Entry forms for 2016 will also appear on the championship website soon.