Riponian Rally 2016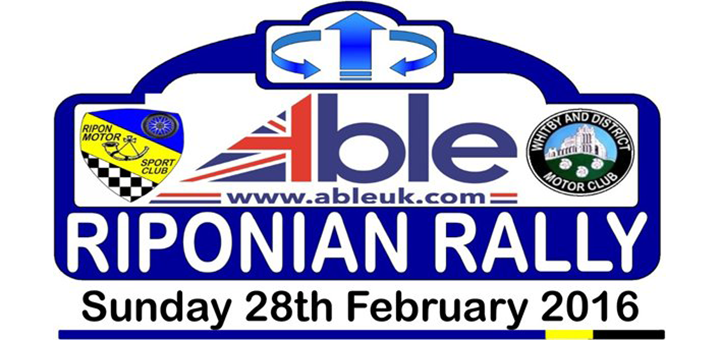 Whilst driving to Thirsk from spennymoor early Sunday morning the 28th February the day began with bright sunshine following a few overnight flitters of sleet. Most crews reported the surface of the opening stages being either dry and grippy or being coated with a sheet of ice.
Highest placed ANECCC SG Petch registered driver to leave from the start at Thirsk Auction Mart was local hero from Thirsk, and the event sponsor, Peter Stephenson in his familiar Ford Focus WRC. Seeded at number 3, with the non registered Frank Walsh co-driving, Peter's day would be quite quiet compared to recent years on this same event. Having no problems with the car, apart from a spin on the first stage, Peter would finish the day in a handy 4th overall.
Seeded at 12 was another Thirsk man, Mat Smith in the ultra quick Proton Satria. Mat had his usual co-driver, Eggleston based and reigning 2015 ANECCC Champion co-driver, Giles Dykes reading the notes. Mat was bitterly disappointed not to have won the championship in 2016 so we're delighted to see him return again in 2016. He'll certainly be someone to watch out for again as the season progresses. They would eventually book in at the finish with another fine 6th overall, 1st in the 1400cc class.
Newcomer to the ANECCC SGP Championship is ex rally-cross star Trevor Gamble from Lanchester. Trevor had the non-registered Phil Kenny recording the times. According to Phil the VW Polo S2000 4×4 also appears to be a useful method of "poaching pheasants". Phil also had a number of tales to tell about their sideways driving style on the ice. The times show they were very competitive in the 4×4 class and finishing 9th overall shows they'll be a crew to watch this year.
Reigning ANECCC SG Petch champion Barry Lindsay, from Spadeadam, had his regular co0driver, the delightful Caroline Lodge from Brampton, reading the notes. Barry wasn't his usual chirpy self as he was carrying the remains of a recent migraine, however, as he improved through the day so did his times and they'd finish an excellent 14th overall, 1st in the 1600cc class, and now takes the overall lead in the championship.
Another crew returning to the championship for 2016 are driver Andrew (Rambo) Robinson, from York, and his co-driver Kev Wilson from Harrogate. Similar to most crews they found the early icy bits a bit of an awakener. Rambo's comments about being "a passenger" weren't received with a lot of compassion from Kev. Ha. Now you know what it feels like, Andrew… Seeded at 22 and finished at 22, 3rd in class, with their Ford Escort Mk2 as they left for home.
Another man from Thirsk is Ben Cree. Ben feels that the time is now right for him to have a serious attempt at the championship and is looking for a regular co-driver. During the morning his times in his Peugeot 205 were competitive in the 1600 class. However, later in the day a serious problem with the RHR suspension cost him a lot of time. The experienced Mark Casey was reading the notes for Ben and they would eventually finish 18th overall, 2nd in class.
Another newcomer to the ANECCC SGP Championship is Mark Booth from Rotherham. Mark recruited the very experienced Richard Wardle, from Pickering, to read the notes and this pairing gelled together very quickly. Catching slower cars early on hampered their progress and a stall at a hairpin during the afternoon stages didn't help… Returning home 20th overall, 5th in class is an excellent result for Mark with his Eaton Axles livered Ford Escort Mk2.
James Hall, from Langwathby in Cumbria, brought his recently purchased Proton Compact and his new co-driver, Charley Sayer-Payne from Glasgow, for a run out in the fresh late winter sunshine. James would spend most of the day learning about the ex Mike Davison Proton and after finishing 3rd class result left for home with a smile on his face.
Spadeadam based Mark and Amanda Talbot had spent the recent weeks upgrading their class A Peugeot 106. Due to catching slower cars the front of the car was peppered with paint chips. After making further adjustments to the front suspension to give more ground clearance they would eventually finish 44th overall, 2nd in class.
After two rounds the current points standings for 2015 are:
Drivers
Barry Lindsay 165 pts
Peter Stephenson 156 pts
Mark Talbot 104 pts
Alistair Hutchinson 91 pts
Ben Cree 84 pts
Co-Drivers
Richard Wardle 142 pts
Kev Wilson 139 pt
Amanda Talbot 104 pts
Caroline Lodge 93 pts
Charley Sayer-Payne 84 pts
Round 3, The Malcolm Wilson Rally is on the 12th March. The entry list is now closed, however, if you speak directly to the organisers they may have a place available. website  http://www.malcolmwilson.co.uk/
Round 4, The Border Counties Rally is on the 19th March. Full details and regulations are available on the rally website http://www.bordercountiesrally.co.uk/
Round 5, The Pirelli Carlisle Rally is on the 30th April/1st May. Full details and regulations are available on the rally website http://www.pirellicarlislerbfoundationrally.co.uk/