P&R Benn Greystoke Stages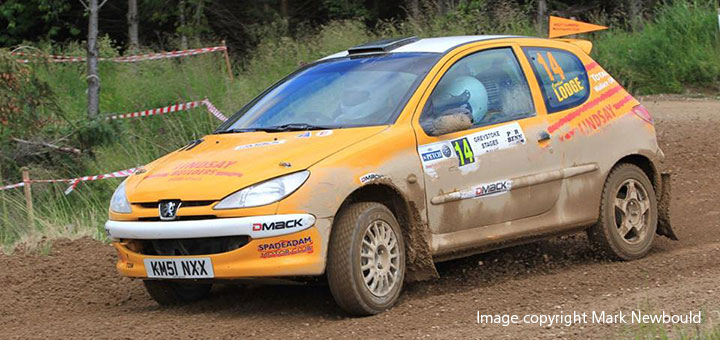 Over the past few years the P&R Benn Greystoke Stages weekend has been blessed with glorious wall to wall sunshine. Unfortunately last weekend their run of good weather came to an end. Saturday was a fine, dry day and the usual al-fesco style Scrutineering session went well. Sunday morning, however, was a different affair. The rain shower which was forecast was a little heavier than expected and also went on for longer than forecast. The mornings' wet conditions would prove very testing and woke up a number of crews, especially some of the front runners.
The Greystoke Stages has always been well supported by ANECCC crews and this year was no different. 15 crews lined up for battle. Unfortunately we'd lose three crews. Timo Kennish left for his home after the second stage with a second-hand looking Vauxhall Chevette. It appears he lost control under braking for a series of corners at the end of a straight and rolled it into the greenery a couple of times. Neither Timo nor his co-driver was injured, although Timo may need open wallet surgery…
Tynemouth based Neil Prior and John Stanger-Leathes lost drive on their Astra early on and once the car was out of the forest they were soon heading back across the A69 for home.
The other crew to set off home early were Jonathon Hodgson and Gary Baker. Something similar happened to them later in the day as their Skoda Fabia now has an air vent between the front of the roof and the top of the windscreen…? Again neither crew member was injured, but they still had time to find a few laughs back in the service area.
Highest placed seeded ANECCC crew were the father and son team, Richard and Edwin Cook, from Cumbria. Seeded at No 2, they were also finding the opening stages a little more slippery than usual due to the rain. A moment on SS5, when they were "a little too flat over crest for a little too long", would see Richard clip a bank side and have their Impreza on two wheels. This was the only drama to worry them all day and eventually they finished the event a very creditable 2nd overall.
Next ANECCC contender was Peter Stephenson from Thirsk. His WRC spec Ford Focus ran well all day and Peter would finish 5th overall gaining another good score to add to his collection for this year. As there are only 6 scores to count from the available 11 qualifying rounds Peter has now started to drop scores but still maintains his 3rd overall position in the championship.
A few places further behind at number 8 were Steve Bannister and Louise Rae. Steve described his early pace as 'very hot' and would spend much of the day changing tyres around. Greystoke's slippery surface can make life difficult for the best of us. An eventual 6th overall for himself and Louise Rae would help Steve maintain his 2nd overall in the championship. Louise now has a healthy lead in the co-driver category, however with three rounds still to run she can still be beaten…
Running immediately behind Steve and Louise were Penrith crew Marcus Noble and Helen Hall. Marcus's 'quiet man' approach is very rewarding and, as usual, the car was running with no problems, although they did find time to brush the scenery a couple of times. 9th overall being a good reward for his local knowledge.
Current ANECCC 2014 champion driver, and also current 2015 championship leader, Barry Lindsay, had the services of Caroline Lodge on the maps. From a start number of 14 Barry decided the grass on one of the downhill bits was a little long and had a go at cutting it, much to the dis-consent of Caroline…! This being Barry's only moment in the wet, tricky conditions he settled himself and would eventually finish 12th overall. He still maintains his championship lead and Caroline is now 5th overall in the co-driver table.
Running immediately behind at number 15 was the very talkative Andy Graham from Stoke-on-Trent with Rob McHenry on the maps. This wasn't Andy's first visit to Greystoke and remembered it being slippery. However, a very red faced Andy arrived back in the service area convinced the surface was more slippery then he'd remembered. After being reassured that everyone was suffering the same due to the rain he changed onto some narrower tyres and finished well down the field in 22nd position, but glad to at the finish without any damage to the car.
Ben Cree had the services of Mat Smith in the co-driver's seat due to his usual co-driver being unable to attend. Although they found some of the tighter corners were cutting up a little I'm sure Ben benefited from some of Mat's guidance and input, sufficiently enough that once fresher rubber was fitted to their 205 they would finish a creditable 23rd overall.
ANECCC regulars Darren Martin and Martin Steele from Carlisle were next in line. Darren had up-rated the since their last outing and what a difference… 7th overall is a magnificent achievement. Well Done..
At number 21 we had the very quick Corsa of Scot Alex Curran and Lancastrian Heather Grisedale. These two have gelled very well and always have a cheery welcome. 16th overall and 2nd in class on the event gives them another good score lifting Alex to 6th overall in the drivers table and Heather is now on equal scores with Caroline but as Caroline has scored points in the first round she has the edge and is 5th overall.
Bishop Auckland's David Coatsworth and his co-driver, the unregistered Chris Patterson, had a difficult beginning to the event as they picked up a minute penalty for early arrival at the start of SS2. This was eventually removed and they'd finish 26th overall, 1st in class 1. Well Done…
Another driver having an average day was James Hall. James was unable to explain his apparent lack of performance. Seeded at 27 he'd finish 27th overall, so there was some consistency of some description.
After eight rounds the current points standings for 2015 are:-
Drivers
Barry Lindsay 528 pts
Steve Bannister 494 pts
Peter Stephenson 458 pts
David Goose 365 pts
Mat Smith 361 pts
Co Drivers
Louise Rae 472 pts
Richard Wardle 389 pt
Giles Dykes 361 pts
Michael Lindsay 267 pts
Caroline Lodge 264 pts
Round 9, The SG Petch Tour of Hamsterley is on the 12th September. Full details and regulations are available on the rally website http://www.tourofhamsterley.co.uk/
Round 10, The MEM Proton Malton Forest Rally is on the 1st November. Full details and regulations are available on the rally website http://www.maltonmc.co.uk/
Round 11, The Coppermines Grizedale Stages Rally is on the 6th December. Full details and regulations are available on the rally website http://www.grizedalestages.co.uk/