Jack Frost Stages 2015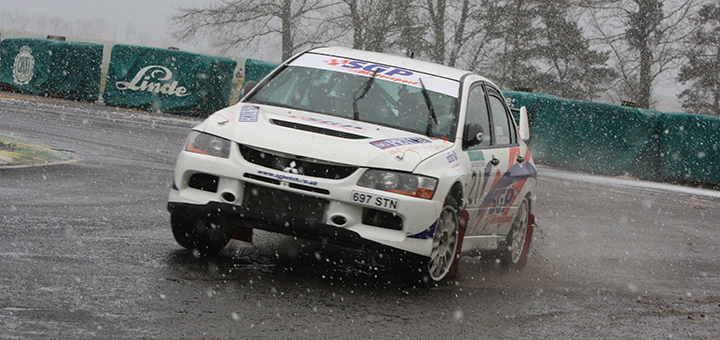 It was a very cold Sunday morning on the 19th January at Croft Racing Circuit when dawn broke. It was bright and sunny. This was the morning of The AutoGas Jack Frost Stages Rally however no one realised that this would be the last anyone would see of the sun for the rest of the day…
Not long after the first cars were arriving back to the service area following the opening stage it started to snow…
All manner of emotions were experienced when some competitors realised they didn't have suitable tyres. Panic and chaos are two words which never appear very much in a rally service area. Everyone just hurriedly went about obtaining tyres from whatever source they could. Thank-fully the on-site tyre supplier had sufficient stock to meet most demands.
Due to the snowy conditions speeds were well down so therefore serious moments were few and far between. Everyone reported having sideways moments and the odd spin, or half spin. Some of the chicanes caused the usual body damage such as headlamps, wings, front panels and spoilers. If you were particularly unlucky, all of the above…
Retirements were also few in number. First to report problems were Michael Davison and Chris Dodds in their Proton. The Morpeth driver believed he'd snapped a driveshaft but after closer inspection by Paul Uren of NE RallySport, who prepare the car, it was found the differential was the suspect so an early hot bath was considered to warm the bones. Both Michael and Chris, from Consett, have re-registered for 2015 after a few years sabbatical. Better luck on the next event lads…
Regular ANECCC supporter is Caroline Lodge. Caroline lives near Brampton but her nomadic habits will see year co-driving for various drivers throughout the year. On this event Caroline was co-driving for Geoffrey Harkness but unfortunately the old driveshaft gremlin struck again therefore Geoffrey's Nova was unable to play any further part in the event.
Staindrop based Mark Thompson and his co-driver Thomas Bruce from Newton Aycliffe got their championship off to an excellent start with 2nd in Class 3 driving their 2 litre powered Peugeot 206. Like most crews they struggled when it started snowing and then regained their momentum once it had cleared.
Hot on Mark's heels is Peter Stephenson from Thirsk. Driving his unique MG ZR 4×4 3rd overall is a very fine result following some consistently steady driving. Peter's challenge for the title has begun in ernest as he's only one point behind Mark.
Although 'The Malton Missle', Steve Bannister, described his day as 'different' his driving didn't look any different. Having not been around Croft in daylight before as all his other visits on the RAC have been during darkness, Banner still managed to keep Michael Lindsay amused.
Next placed man is Barry Lindsay's and his day can be read in a separate report.
New registration is Spalding based David Goose in his Historic specification Ford Escort RS. The expertise of Richard Wardle from Pickering has been reclaimed and 2nd in class is a great start to the year.
Paul Swift, our local stunt driver team from Darlington, had his regular co-driver Jessica Bell in the passenger seat of his 2.5 Escort RS. A rather difficult day saw them eventually finish well down the field, however, 3rd in class 4 gives them enough points for a comfortable start to the year.
Another father and son team, Nigel Atkinson and Keith, came all the way from Lauder for a very pleasing 12th overall in their Evo 9.
Some of Steve Bannister's regular service team members now have cars of their own. Louise Rae, Steve's regular co-driver, was sitting alongside the non-registered Rob Snowden in his Mk2 Escort RS2000. Louise's husband Kevin was also co-driving for the other spanner-man David Brown in Mk2 RS1800. Both driving Mk2 Escorts… there's a shock…
Penrith based Brian Hodgson has returned again this year and registered as a co-driver. Sitting beside the non registered David Miller, Brian would eventually finish 7th in class 3. However, a finish is a finish and points on the table at the start of the year is the better option.
The 2012 co-driver champion, Josh Davison from Morpeth had been press-ganged, (and compressed…), into the Peugeot 205 of Kevin Mathers. 9th in class 3 was worthy result from all the hard toil…
Just a handful of seconds behind was another co-driver. Dave Srimgour, from Guisborough was with Neil Marshall in another 205. Both were glad to see the finish after having a difficult day.
Regulations for the 2nd round, the Riponian Rally on the 22nd February have been out for a while and entries are still available… www.riponmotorsportsclub.co.uk
Regulations for Round 3, The Malcolm Wilson Rally on 7th March, are also available from the rally website… www.malcolmwilson.co.uk