Border Counties Rally 2015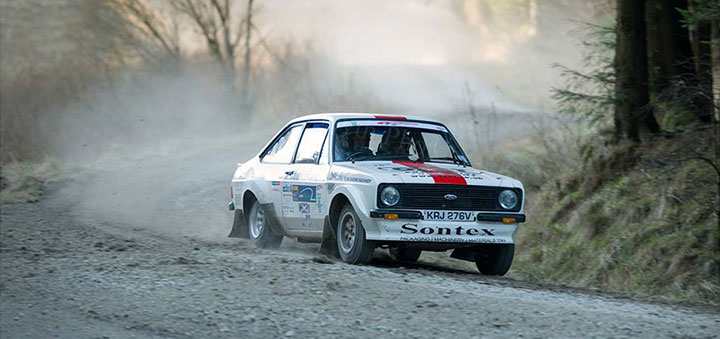 Scrutineering and documentation for the 4th round of the championship, the Border Counties took place in Jedburgh on the rather chilly evening of the 20th March. Saturday the 21st was the first day of spring and by the time competitors starting to arrive back at the finish in Jedburgh the weather was more spring-like. A full entry of 90 cars would leave for a planned 6 special stages in the Scottish borders forests, some of which haven't seen a rally car for a good number of years. Unfortunately SS2 would be cancelled due to spectator issues and SS4 would also be delayed due to similar problems.
Seeded at 16 was Thirsk man Peter Stephenson and was having a relatively trouble-free run in his Focus WRC until his 2nd visit to the service area. Literally yards before the service mat the oil cooler started to leak… Not quite a straight-forward replacement as all of the penalty free service time that was available was used to effect repairs.
Malton based Steve Bannister and Louise Rae suffered a puncture on SS1 which cost 25 seconds to class leader Matthew Robinson. The tyre becoming completely shredded and almost detached itself from the wheel. They found the afternoon stages to be very slippery with lots of grass making grip inconsistent. Louise described the situation as similar to a racing circuit whereby if you drove one corner wrong it upset the following sequence of corners.
Another Thirsk man, Mat Smith and Barnard Castle's Giles Dykes were also having a trouble free run in their Proton Satria. Giles explained how they were spending their time getting used to Scotmaps' route notes. Mat and Giles now lead the championship by a slender margin, however there's a long way to go yet…
Alex Curran from Newton Stewart and Heather Grisedale from Cumbria were finding the stages in good condition. Although they had a spin on SS1 in their Vauxhall Corsa they felt they spent too long behind another car which they'd caught on the same stage. Heather was now regaining her confidence and found she needed to read the notes a little faster on the quicker bits…
Peugeot 205 powered Ben Cree from Thirsk expressed sadness at having to lose SS2 as he described the stage to be in "cracking condition".
Spalding's David Goose and Pickering's Richard Wardle were also enjoying the event and going well with no problems. David described the car as "handling well". Unfortunately as the day progressed an issue developed with the engine struggling a little on low revs.
Michael Davison from Morpeth and Chris Dodds from Consett were another crew who were having a trouble free run, that is until they came upon a fence post laid in the middle of the track. Their Proton Satria burst metal brake pipe on SS4, which was attributed to the "deep horrible gravel"…
Andrew Robinson and Kevin Wilson were also having a steady run and had no problems at all with their historic spec Escort Mk2.
Chris Marlow was feeling a little tired after his 3am start, but thankfully, the car ran tirelessly all day…
New recruits Jonathan Hodgson, from Bradford, and Gary Baker, from Bingley, felt the morning stages were ideal for them. "Lots of downhill bits", although they did admit they weren't looking forward the afternoons' return when the stages were reversed and ran uphill…!!
There were no retirements at all, whatsoever. An amazing situation where I feel every crew needs praise. I didn't do my Brain Hanrahan act and "Count them all out and count them all back", but it's not often this happens.
Well Done, everyone…
Mat Smith 266 pts
Barry Lindsay 263 pts
Steve Bannister 231 pts
Peter Stephenson 229 pts
David Goose 193 pts
Co Drivers
Giles Dykes 266 pts
Richard Wardle 239 pts
Louise Rae 209 pts
Michael Lindsay 176 pts
Heather Grisedale 96 pts
Round 5, The Pirelli Carlisle Rally is on the 25th April. Full details and regulations are available on the rally website http://www.pirellicarlislerbfoundationrally.co.uk/
Round 6, The Jim Clark Reivers Forest Rally is on the 31st May. Full details and regulations are available on the rally website http://www.scottishrallychampionship.co.uk/events/jim-clark-reivers-rally/
Round 7, The Carlisle Rally is on the 13th June. Full details and regulations are available on the rally website.